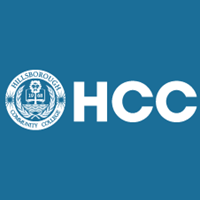 Hillsborough Community College
Four letter SEA-PHAGES code: HLSB
Location: Tampa, FL USA
Website: https://www.hccfl.edu/
Joined SEA-PHAGES: Cohort 11 (started in 2018)
Buddy school: Indian River State College
Term type: None
Total SEA-PHAGES sections taught: 1
Total SEA-PHAGES students: 16
Hillsborough Community College was founded in 1968. We are a Hispanic Serving Institution with a total enrollment (2016-17) of 43,905 and total FTE enrollment (2016-17) of 20,585 students. This makes us the 4th largest public community college in Florida in lower-division FTE enrollment, the 7th largest public community college in Florida in annual unduplicated headcount and the 2nd largest higher education institution in Hillsborough County by enrollment. HCC ranks in the top 10 of all Florida College System schools for total number of completions, number of A.S. completions, PSAV completions, PSV completions, and EPI completions in 2015-16. We have five campuses located throughout Hillsborough County and 2,829 faculty and staff (2016-2017).
SEA-PHAGES Faculty
Primary Faculty Contact
mhopsonfernandes@hccfl.edu
Legal Contact
Jim Wysong, Dean of Associate in Arts, Mathematics and Sciences Division
jwysong@hccfl.edu
(813) 253-7236
Academic Terms
Fall 2018
Start: Aug 20, 2018, End: Dec 11, 2018
Sections in this Term
BSC 2010L/#13246
Primary Instructor: Margaret Hopson-Fernandes
Additional Instructor: Christine Logue
Type: In situ (phage discovery/microbiology)
Hosts used: Microbacterium foliorum
Number of students: 16
Freshmen: 16
Meetings per week: 2
Hours per week: 4.0
There is also an open lab session for 2 additional hours per week.
Institution Addresses
Current Mailing Address
Margaret Hopson-Fernandes
Hillsborough Community College
4001 W Tampa Bay Blvd
Tampa, FL 33614
United States
Current Shipping Address
Margaret Hopson-Fernandes
Hillsborough Community College
4001 W Tampa Bay Blvd
Tampa, FL 33614
United States