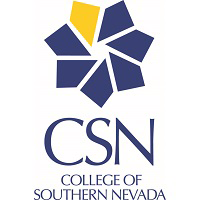 College of Southern Nevada
Four letter SEA-PHAGES code: CSNV
Location: Las Vegas, NV USA
Website: https://www.csn.edu/
Joined SEA-PHAGES: Cohort 11 (started in 2018)
Buddy school: University of Nevada Las Vegas
Term type: None
Total SEA-PHAGES sections taught: 3
Total SEA-PHAGES students: 15
Founded in 1971, the College of Southern Nevada is the state's largest and most ethnically diverse higher education institution offering 2-year and 4-year degrees. Creating opportunities and offering our students, faculty and staff the best in-class technology is part of the experience at CSN.
SEA-PHAGES Faculty
Other Faculty Members
Legal Contact
Rolando M. Mosqueda J.D.
Associate Vice President Procurement and Auxilliary Services
College of Southern Nevada
Rolando.mosqueda@csn.edu
T: 702-651-4245
F: 702-651-4348
Academic Terms
Spring Semester 2019
Start: Jan 22, 2019, End: May 12, 2019
Sections in this Term
Biol 299 SEAPHAGES
Primary Instructor: Chelsey McKenna
Additional Instructor: James Theoret
Additional Instructor: Erin Windsor
Additional Instructor: Earl Yoon
Type: In silico (phage genomics/bioinformatics)
Hosts used: Gordonia rubripertincta
Number of students: 8
Sophomores: 8
Meetings per week: 1
Hours per week: 3.0
Fall 2018
Start: Aug 27, 2018, End: Dec 16, 2018
This is the Phage Discovery portion of the course.
Sections in this Term
BIOL 299 SEA PHAGE_3001
Primary Instructor: Chelsey McKenna
Additional Instructor: James Theoret
Additional Instructor: Erin Windsor
Additional Instructor: Earl Yoon
Type: In situ (phage discovery/microbiology)
Hosts used: Gordonia rubripertincta
Number of students: 7
Sophomores: 7
Meetings per week: 2
Hours per week: 4.0
Biol 299 SEA PHAGE_3005
Primary Instructor: Erin Windsor
Additional Instructor: Kendra Kimberley
Additional Instructor: Chelsey McKenna
Additional Instructor: James Theoret
Type: In situ (phage discovery/microbiology)
Hosts used: Gordonia rubripertincta
Number of students: 0
Meetings per week: 2
Hours per week: 4.0
Fall 2018
Start: Aug 27, 2018, End: Feb 22, 2018
Sections in this Term
No sections entered for this term yet
Fall 2018
Start: Aug 27, 2018, End: Dec 16, 2018
Phage Discovery
Sections in this Term
No sections entered for this term yet
Fall Semester 2018
Start: Aug 27, 2018, End: Dec 10, 2018
Sections in this Term
No sections entered for this term yet
Institution Addresses
Current Mailing Address
Kendra Kimberley
College of Southern Nevada
College of Southern Nevada
6375 W. Charleston
G304
Las Vegas, NV 89146
USA
Current Shipping Address
Kendra Kimberley
College of Southern Nevada
College of Southern Nevada
6375 W. Charleston
G304
Las Vegas, NV 89146
USA