Abstract Summary
Below is a summary of the abstract you submitted. Presenting author(s) is shown in bold.
If any changes need to be made, you can modify the abstract or change the authors.
You can also download a .docx version of this abstract.
If there are any problems, please email Dan at dar78@pitt.edu and he'll take care of them!
This abstract was last modified on April 24, 2015 at 9:27 a.m..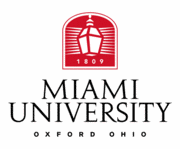 Miami University
Corresponding Faculty Member: Gary Janssen, janssegr@muohio.edu
This abstract WILL be considered for a talk.
Isolation and analysis of DumpstDiver, a cluster J mycobacteriophage from Southwest Ohio
Elsa C Clenny, Geneva H Mommsen, Jana M Cable, Martha L Carter, Justin T Crookes, Rachana Gollapudi, Sarah K Hiner, Pierce N Kurek, Ciara Lawson, Svitlana A Podolyan, Leah N Stetzel, Julie M Donn, Ryann M Brzoska, Gabrielle M Lopez, David C Ream, Iddo Friedberg, Mitchell F Balish, Gary R Janssen
We have isolated a J cluster mycobacteriophage from a dumpster outside a student residence hall at Miami University (Oxford, OH) by enrichment culture using Mycobacterium smegmatis as host. The phage, named DumpstDiver, was isolated through six rounds of purification and consistently yielded lysogenic plaques of variable size. Electron microscopy revealed phage particles with a distinct head shape and a tail of constant length and morphology. The 112,285-base pair genome of DumpstDiver encodes approximately 230 genes (pending final annotation) and a single tRNA for glycine. There is extensive synteny with other phages from cluster J, including large blocks in which predicted amino acid sequences are 100% identical to any of various other J phages, suggesting strongly that recombination is a major evolutionary mechanism for generation of new phages, which in turn suggests that co-infection is likely. There is also a very small number of unique genes and genes that share homology only with chromosomal genes from other Mycobacterium species.