Abstract Summary
Below is a summary of the abstract you submitted. Presenting author(s) is shown in bold.
If any changes need to be made, you can modify the abstract or change the authors.
You can also download a .docx version of this abstract.
If there are any problems, please email Dan at dar78@pitt.edu and he'll take care of them!
This abstract was last modified on March 11, 2021 at 7:44 p.m..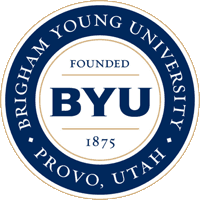 Brigham Young University
Corresponding Faculty Member: Julianne Grose, julianne_grose@byu.edu
This abstract WILL be considered for a talk.
Mass spectrometry analysis of Gordonia phage AJGECKO
Rebecca Moulton, Sean Wolthuis, Sai Harsha Nagidi, Colton Shaner, Heemin Lee, Emilee Augenstein, Samuel Flor, Madilyn Brandt, Julianne H Grose
The class of Actinobacteria includes many pathogenic bacteria, such as the well known Mycobacterium tuberculosis. We hope by studying phage that infect a closely related bacteria, Gordonia, we will discover a bacteriophage with the potential to also infect the more pathogenic related species with implications for improved patient care and sustainable farming techniques. We have taken a novel Gordonia phage isolated from raw sewage with the goal of identifying and determining the function of the contained virion proteins, further characterizing this phage, confirming the results of annotation and exploring the potential of novel proteins identified through mass spectrometry. After high titer lysate preparation and confirmation, AJGECKO was centrifuged in a CsCl gradient to isolate the virion particles for extraction following neutralization dialysis in SM buffer to remove the non-stationary ions to purify phage from debris. We anticipate after filter sterilization and fragmentation, the isolated peptides will be ready for mass spectrometry analysis. This characterization of the virion proteins of AJGECKO has great potential to aid in characterizing this new family of Gordonia phage, furthering basic knowledge of phage proteomics. Characterization of AJGECKO may prove useful in designing phage therapies for agricultural pest treatments and clinical applications, providing a safe alternative to antibiotics.