Abstract Summary
Below is a summary of the abstract you submitted. Presenting author(s) is shown in bold.
If any changes need to be made, you can modify the abstract or change the authors.
You can also download a .docx version of this abstract.
If there are any problems, please email Dan at dar78@pitt.edu and he'll take care of them!
This abstract was last modified on March 11, 2021 at 1:16 p.m..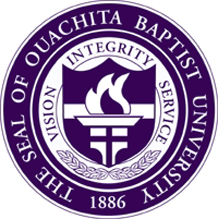 Ouachita Baptist University
Corresponding Faculty Member: Nathan Reyna, reynan@obu.edu
This abstract WILL be considered for a talk.
Hacking the Iceman Genome with High School Students:
Michelle Phillips, Rylie Davis, Rebecca Janke, Emily Castilaw, Cori Clower, Peyton Dodd, Jade Dorman, Madison Easley, Kaylee Johnson, Trey Lamb, Mikayla Long, Madison Lovell, Micah Martin, Charlie McClain, Zach McClain, Hope Murphy, Anna Claire Newman, Alexis Perry, Joseph Presley, Caden Puliam, Erin Russo, Erica Stilwell, Kaleigh Thomas, Grace Tidwell, Addison White, Ruth Plymale, Nathan Reyna
Students in the Ouachita Phage Bioinformatics class organized and developed a high school outreach event modeled from the HHMI genome hack-a-thons. We have previously hosted two in-person events (2017,2018). In 2019, we had 80 high school students registered for an in-person bioinformatics hack-a-thon. However, as a result of the COVID-19 pandemic, many Arkansas High Schools moved to the virtual environment, and our event was canceled. For both high schools and colleges, the virtual environment has highlighted a need for new opportunities to engage with the scientific community. The Ouachita Bioinformatics class annotated the page Iceman (Cluster A4, Host: Mycobacterium smegmatis) alongside local high school students and their teachers. The entire event was student-led and directed. OBU students created a google classroom with videos explaining aspects of gene annotation, developed worksheets and lesson plans aligned to state learning standards to help teachers prepare for the hack-a-thon. During the event, Ouachita students worked in breakout groups via zoom with the high school students to guide them through the processes of gene annotation. We have found this is a unique way for the bioinformatics class to learn the science behind genome annotation and build confidence. We will describe how the event was organized, used to augment the class learning objectives, and how others can get involved.