Abstract Summary
Below is a summary of the abstract you submitted. Presenting author(s) is shown in bold.
If any changes need to be made, you can modify the abstract or change the authors.
You can also download a .docx version of this abstract.
If there are any problems, please email Dan at dar78@pitt.edu and he'll take care of them!
This abstract was last modified on March 30, 2021 at 4:17 p.m..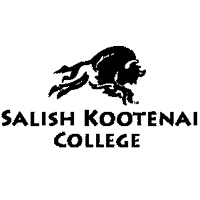 Salish Kootenai College
Corresponding Faculty Member: Ranalda Tsosie, ranalda_tsosie@skc.edu
This abstract will NOT be considered for a talk.
The Learning Curves of Bacteriophage Hunting
Lexie Gauthier, Molly Kate Sullivan, Aaliyah Decker, Ranalda L Tsosie, Andrea Panagakis
Bacteriophages are viruses that infect bacterial hosts. Bacteriophages are diverse and exist throughout the environment, with an estimated 1031 particles on earth. They play a fundamental role in molecular biology and have many potential applications, including therapeutics, disease diagnosis, and as tools for various applications.
Using protocols from the Phage Discovery Guide, soil samples were collected from locations in Montana near Salish Kootenai College. Samples were isolated using enriched isolation and M. smegmatis as a bacterial host. This was followed by the purification process that refined the type of plaques that appeared on plates. Before purification, multiple types of phage could be found on each plate. After picking a single plaque, plating it, and repeating the process, the phage was purified and the lysate was harvested. The amplification process increased the number of phages. Using full plate titer calculations, webbed plates were made and flooded to produce copious amounts of high-titer lysate. DNA was then extracted for further analysis. To characterize each phage's DNA. Restriction enzyme digests were performed to cut phage genomes and create a genetic "fingerprint" as part of the characterization process. Electrophoresis separated the DNA fragments in agarose gels by size. "Bands" of DNA fragments could then be viewed using UV light. With the assistance of NIH/NIAID/Rocky Mountain Labs in Hamilton, MT, TEM was used to create micrographs of the visible morphologies of each phage.
Phages were isolated from two environmental samples. DNA was extracted from all four potential phages, however one phage, JalFarm20, was found to be identical to another potential phage, Lexate, upon sequencing. The other two phages, Lnkwect and Mollexie, did not have high enough DNA concentrations for sequencing. Our phage is medium lysogenic and its morph type is siphoviridae. The phage was classified as part of cluster F, subcluster F1, with a temperate cluster life cycle. The concentration of DNA from JalFarm20 was 2.0x109 based on the full plate titer. We were able to view the morphology of the phage through TEM micrographs. After obtaining the DNA, we added restriction enzymes and ran the DNA through gel electrophoresis. In these gels we were unable to see distinct bands or smears of DNA.
We were able to successfully isolate phage from the soil samples near SKC. Two of the phages isolated were identical, however, and the other two samples had concentrations of DNA that were too low for sequencing. As a continuation we will annotate the genome of JalFarm20. Further analysis would be required to troubleshoot a few of the challenges we had. This included separation of the DNA fragments in electrophoresis and improving overall technique. Lastly, future works to build off this may include looking at new soil sample sites for phage and using a different host bacteria.