Abstract Summary
Below is a summary of the abstract you submitted. Presenting author(s) is shown in bold.
If any changes need to be made, you can modify the abstract or change the authors.
You can also download a .docx version of this abstract.
If there are any problems, please email Dan at dar78@pitt.edu and he'll take care of them!
This abstract was last modified on March 16, 2021 at 3:42 p.m..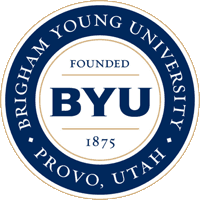 Brigham Young University
Corresponding Faculty Member: Don Breakwell, breakwell@byu.edu
This abstract will NOT be considered for a talk.
A Comparative Analysis of Microbacterium foliorum Phage Subclusters EA5 Through EA11
Gabrielle R Brown, Sariah J Christensen, Isabella I Fratangelo, Nathan E Hutchinson, Matthew J Brown, Samuel Cox, Jackson L Downey, Andrew R Jensen, Tiana M Scott, Julianne H Grose, Donald P Breakwell
The genomes of EA cluster bacteriophages that infect Microbacterium foliorum NRRL B-24224 have been divided into 11 subclusters, each with unique characteristics. With the isolation of additional bacteriophages, new subclusters are constantly being discovered. One of these is the EA10 subcluster whose members include Nucci, Quartz, YuuY, and the newly discovered phage Mandalorian. Our goal was to compare and contrast subclusters EA5 through EA11 to better understand what makes the EA10 subcluster unique. We used Phamerator, NCBI, and MAFFT to perform genome analyses and comparisons. EA clusters are recognized by their switch from right-transcribed DNA to left-transcribed DNA approximately halfway through their genome and their lack of a capsid maturation protease gene. We compared the synteny found in the EA10 subcluster to surrounding subclusters (EA5-EA11). While similar, subclusters EA5-11 differ in genome length, number of ORFs, prevalence of orphams, and synteny. A significant feature of EA10 is the insertion of ORFs with proteins of no known function. These proteins are different across subclusters, but they are generally the same within subclusters. These differences prove to be important when comparing the genomes of each subcluster as they make each phage unique. No phage is alike, and our research has helped to clearly define the boundaries that encapture the differences between these subclusters.