Abstract Summary
Below is a summary of the abstract you submitted. Presenting author(s) is shown in bold.
If any changes need to be made, you can modify the abstract or change the authors.
You can also download a .docx version of this abstract.
If there are any problems, please email Dan at dar78@pitt.edu and he'll take care of them!
This abstract was last modified on March 16, 2021 at 12:42 p.m..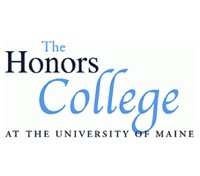 University of Maine, Honors College
Corresponding Faculty Member: Melody Neely, melody.neely@maine.edu
This abstract will NOT be considered for a talk.
Genomic Analysis of Novel Bacteriophage ProphiA311-1
Chloe Bossow, Timber Mattson, Caitlin Wiafe-Kwakye, Sally D Molloy, Melody N Neely
Mycobacterium abscessus is a ubiquitous bacterial pathogen found in the environment that causes pulmonary and disseminated infections, especially in patients who have cystic fibrosis or an immunodeficiency. Bacteriophages are viruses that can infect M. abscessus and become prophages upon integration into the bacterial genome. The prophages can encode for defensive mechanisms that protect the bacteria from environmental stressors, and infection by other bacteriophages. Not much is known about the prophages found in M. abscessus, but analysis of their genomes and the mechanisms they use to protect bacteria can help advance treatment against infections. ProphiA311-1 is a prophage extracted from the M. abscessus clinical isolate A311 using Phaster. ProphiA311-1 was analyzed and annotated using multiple bioinformatic tools. The prophage genome is 61,507 bps in length, containing 89 genes and no tRNAs. This prophage is part of cluster MabL phages, which only contains four prophages to date that share similarities in the structural and replication regions. Some of the most notable features of prophiA311-1 include a WhiB1 transcription factor located at gp28, and a forward-oriented WXG-100 family polymorphic toxin system (gp85 – gp87) similar to that found in MabE2 prophage, prophiGD91-4. Gp85 encodes an Esx1-like protein and the downstream polymorphic toxin with an N-terminal WXG-100 motif and C-terminal peptidoglycan endopeptidase RipA toxin. gp87 is an orpham and likely encodes the cognate immunity protein. Prophi311-1 also encodes two orpham proteins, gp83 and 84, that align to WXG-100 family protein and a colicin toxin protein.